In January, we had an in-service day at school. During the morning staff meeting, teachers were tasked with creating an exhibit that would communicate "Who We Are," as literacy teachers. I decided that my theme would be my ongoing journey as a literacy teacher.
As I sorted through possible artifacts on hand in my classroom, I considered what has shaped and continues to shape my journey as a literacy teacher. I quickly realized that it is the questions that are always at the wheel, driving my interest and development.
I mapped my questions on the white paper you see in my final exhibit. Next I linked them to concepts and resources that drove my inquiries into each question.
I noticed that my questions evolve as I progress through my career. The first question was posed 20 years ago when I first began working with young readers and writers.
My Questions:
How best can I teach reading and writing?
What does the research tell me about language and literacy development?
How am I providing access to students for whom English is not their mother tongue?
How am I providing access for students with different abilities?
What is the role of language in my student's identities? How does language instruction in my classroom affect this?
How do the frameworks, philosophy, and practices that have worked for me (and countless others) fit in with the philosophy and framework of the PYP?
What am I doing to ensure that my students have equitable access to the learning at our school? In our grade?
How best can our school support a consistent and coherent experience for our students given their transient nature as well as that of the faculty?
My Exhibit: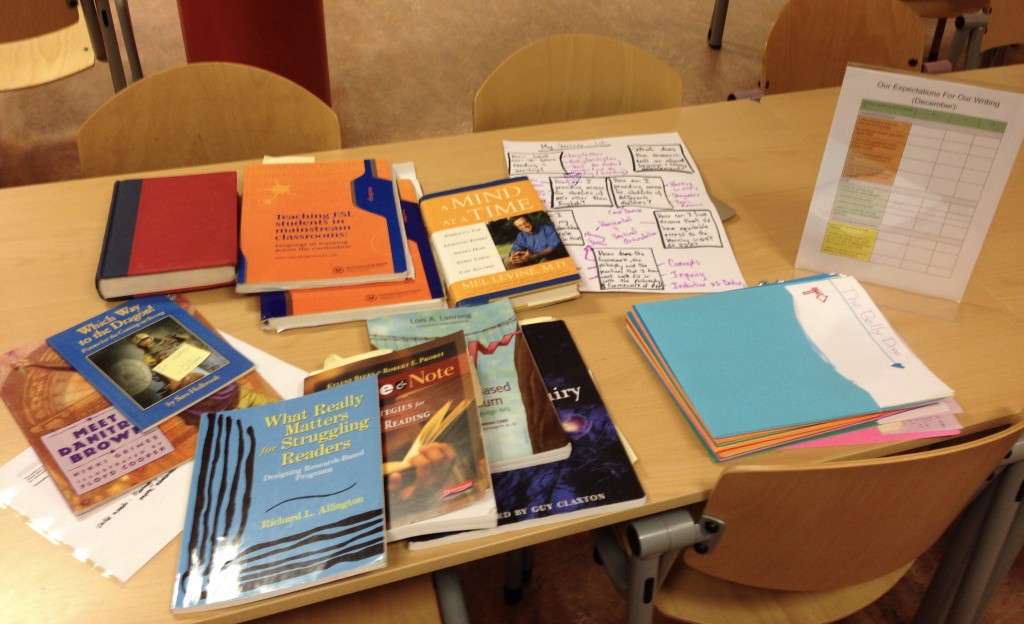 My artifacts included student work, some favorite mentor texts, recent professional reads and some old standards that I always have on hand. The exhibit is certainly not complete. Many of my professional texts and mentor texts are personal property and stored at home. The absence of some of my own mentors is conspicuous and had they been on hand, Lucy Caulkins, H. Lynn Erickson, Ralph Fletcher, Carl Anderson, and countless students who have taught me so much, would also have been represented.
What are the questions that have shaped your journey so far? Who are your gurus?