Our second unit of inquiry in Kindergarten is "You've Got Messages." We investigate it under the PYP theme, "How We Express Ourselves." The central idea is "There are different systems to communicate and connect with other people." The key concepts are form, function, and causation and the related concepts are communication, interactions and messages.
This unit is a well-oiled machine and has run in our Kindergarten for as long as I've been at the school (at least 13 years). As a part of the unit, Kindergarteners open a postal service in the lower school, which is always a much-anticipated event by the workers (our Kindergarteners), as well as the users (everyone else in the lower school). I was super excited to be on the "working" end of the service this year. I was also super excited to see how much I could get the students to drive their learning and how I could best facilitate conceptual understanding. Because, of course, #yestheycan
Invitations and Provocations
The Kindergarten team spent a lot of time making a plan and setting the stage for play and exploration related to our unit in our common area.  Complete credit goes to my amazing colleagues, as I was not even there the day they set it up. They put out displays and artifacts as invitations to the new unit. This included a message-writing center and the transition of the role-play area into a post office.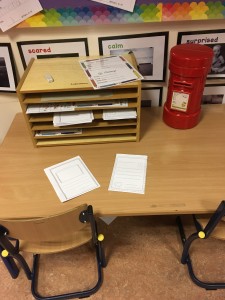 I planned to use my student's first experiences in the common area as an opportunity to hand control of the unit over to them right from the start. Experience has taught me that this would be much more successful if I did two things:
have clear questions articulated in my mind to guide exploration and discussion.
capture as many of the students' actions and conversations as possible while they were playing.
Capturing the Moments
I have learned that capturing the actions and interactions of students, both with their learning environment and each other, is crucial to giving them genuine ownership. Over the course of an hour's play, Kindergarteners are not always able to realize, let alone hold onto their noticings and wonderings. By recording as much of what I hear and see them doing, I can provide them with a record of their thinking from throughout that session. Students love it when we "catch" them purposefully playing and they love it even more when we quote them. This certainly supports their developing self-efficacy, which, of course, supports the learner agency we strive for.
In addition to building self-efficacy and agency, capturing the students' actions and conversations ensures that I am building on what they are valuing as interesting and important to learn.
In this instance, I used padlet to record as much as I could of what I saw and heard as my students interacted with our unit invitations.
Teacher Questions
As the first experience playing in the common area was to provide the invitations to the unit, the questions had to be considered carefully. I planned a number of questions to help me be as prepared as possible to follow the students' thinking, as well as to guide them to focus in on the unit itself. In practice, only two of my questions were necessary as the students had much to share. They noticed the connections to messages and eagerly contributed their ideas and wonderings related to the different types of messages and how they work.
The conversation was guided using the following:
What did you notice in as you explored the common area?

We are going to spend all the way until the winter break on a unit connected to what you explored. What do you think might be interesting or important to investigate, connected to what you explored in the common area?
The Kindergarteners Take Over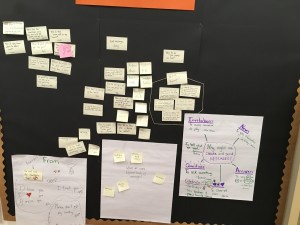 There were so many responses generated that we decided to sort them into groups and plan from there:
If you were to zoom in on the individual and groups of post-its, you'd see that there were many wonderings about how a post office system works (top, left). You'd also see quite a few wonderings about how to create and send messages, including an expressed desire to learn how to write the names of the people that the students wanted to communicate with (far-right). The third group of wonderings consisted of questions related to how people send and receive messages digitally, many of which were born from seeing their parents and older siblings on devices each day.
Ready To Learn
Once the students generated their initial wonderings and sorted them into groups, we let the kids know that they would have to help us plan for the learning. We asked for burning "Need to Knows" and for suggestions for how we could begin to investigate some of the wonderings on our board. Suggestions ranged from delivering messages in the school to learning how to write a greeting in writer's workshop and quite a few things in between. Those are another blog post for another day but rest assured, every week we check in together, to see which wonderings have been addressed, which still need to be and of course, to see if any new ones have cropped up.